pre-owned unison research simply italy valve amplifier
Selling for a client
Mint condition
Boxed with remote
RRP £1999
£1000 accepted
Description
Description
Mint condition with box, selling on behalf of a client so payment by BACS or cash on collection from Huddersfield. Retail when new £1995, £1000 secures this excellent amplifier.
The Simply Italy was inspired by the iconic Simply Two integrated amplifier from Unison Research, and produced to celebrate the 150th anniversary of Italian unification. It's been designed to be faithful to the Unison Research tradition, by making it an integrated amplifier design that sounds great and pays attention to important audio engineering principles that reduce performance-affecting interference.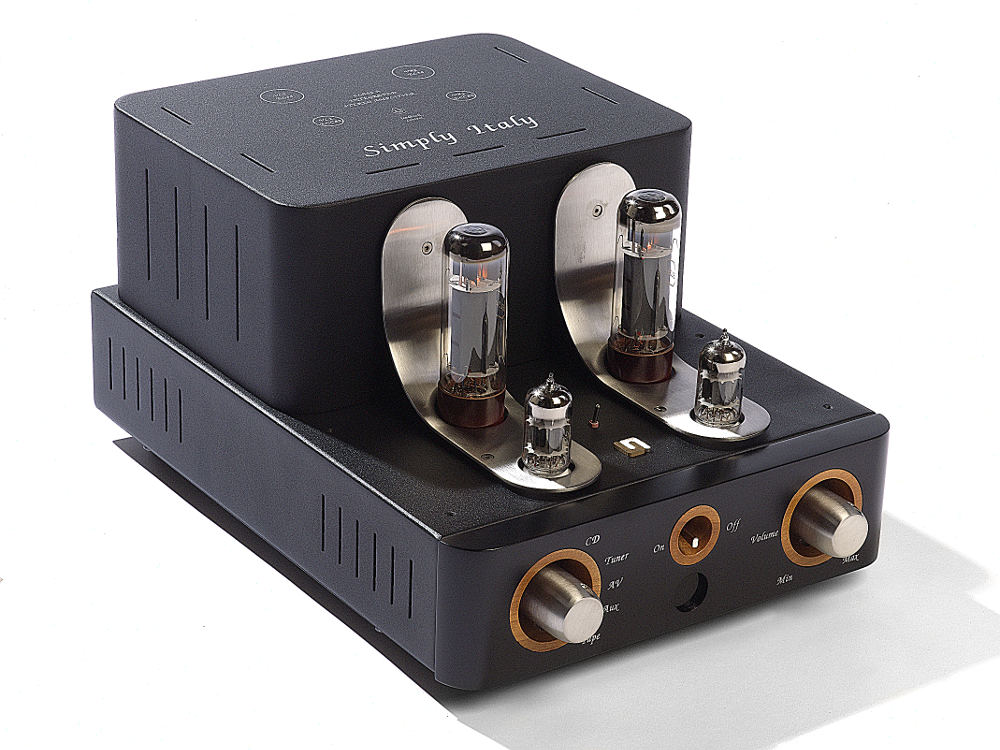 Because of the overwhelming success of the design, the Simply Italy shares many of the design features of the Simply Two. Both are ultra-linear, single-ended Class A designs that produce 12W per channel, and both use EL34 valves in the output stage and ECC82 valves in the pre-amp and driver stages to achieve Unison Research's trademark imaging, clarity and musical precision. But the Simply Italy offers a wide range of new features that were designed and developed more recently.
First, the output impedance has been adjusted from 8Ω to 6Ω, making the amplifier compatible with a greater variety of loudspeakers. Also, since a true dual-mono configuration would be impractical in such a compact amplifier, Unison Research designed a new "Quasi-Dual-Mono" power supply. In this configuration, the power transformer and first filter stage of the power supply are doubled, separating all pre-amp stages to allow for lower cross-talk and low distortion.
Thanks to Unison Research's ability to design specialised transformers in house, the Simply Italy is able to have an output stage consisting of one EL34 in a single-ended ultra-linear configuration. This mode of operation for the output transformers allows the pentode EL34s to operate almost as if they were triodes. Furthermore, an additional toggle switch allows for an adjustment of negative feedback in the circuit. This means the sound character of the amplifier can be adjusted to suit specific types of music or listening environments.
The appearance of the Simply Italy has undergone radical changes, when compared to the Simply Two. The front panel is a locally-sourced wood that's accented by contrasting wood inserts around the controls, that also acts as an anti-resonant support for the metal chassis. Then two stainless-steel bands beneath the valves add a touch of refinement, while additionally aiding performance by thermally isolating the valves from the electronic circuitry and output transformers. Finally, the control knobs are made from non-magnetic stainless-steel with a sufficient diameter and weight to provide a smooth 'flywheel' effect with excellent feel and rotational precision.
The Simply Italy is supplied with an infra-red remote handset which allows for convenient control over input switching and the premium motorised volume pot from ALPS. The back panel is finished with four large gold-plated terminal connectors that allow any type of loudspeaker cable to be connected easily, alongside clearly marked RCA inputs for multiple audio sources.

KEY FEATURES:
Ultra-linear, single-ended Class A integrated amplifier
Based on the iconic Simply Two design
Combination of EL34 and ECC82 valves used
6Ω output impedance for easier speaker matching
Specially designed power supply to suit compact size
Switchable toggle for changing effects of negative feedback
Wood panel front plate adds extra damping to metal casework
Clearly-labelled inputs and outputs
IR remote allows for convenient operation
RK27 Series motorised potentiometer from ALPS used for the volume pot
RC2 remote included
Type:
Stereo Integrated Valve Amplifier
Output Stage:
Single-Ended, Ultra-Linear, Class A
Output Power:
12W per-channel (approx.)
Output Impedance:
6Ω
Input Impedance:
47kΩ / 50pF
Negative Feedback:
Switchable, 5dB or 1.8dB
Valves:
2 x ECC82 (12AU7)
2 x EL34 (6CA7)
Power Consumption:
85W
Fuses:
T1A from 220V-240V
Dimensions (W x D x H):
26 x 35 x 19cm
Net Weight:
15kg
Reviews (0)
Only logged in customers who have purchased this product may leave a review.
Ask a Question
Ask a question about this product
We'll get back to you as soon as possible.