Melco N1A/2 Audiophile Music Storage System
£2,399.00
 Silver/black aluminium front panel with MELCO plate
Description
Description
The new MKII Melcos have arrived. New 2017 Melco brochure here.
N1A/2 is a development of the N1A to further improve sound quality especially for USB-DAC users. A dedicated Neutrik USB 2.0 port connects to the DAC for optimum sound quality. Internally there are many detailed improvements to further reduce internal noise including a new capacitor bank to isolate the medical grade power supply, a new higher current 3 pole IEC connector with true ground and a built in power supply noise filter.
Newly selected HDD with vibration isolating cradles ensure a new low level of vibration combined with capacity increase. (EU 2 x 3TB = 6TB, USA 2TB x2 = 4TB). A front panel USB 3.0 port makes importing from USB stick or USB drive very convenient and is in addition to 3 rear USB 3.0 ports for Easy Backup, Easy Expansion, Easy Play and Easy import.
Aluminium Fascia and Metal Wrap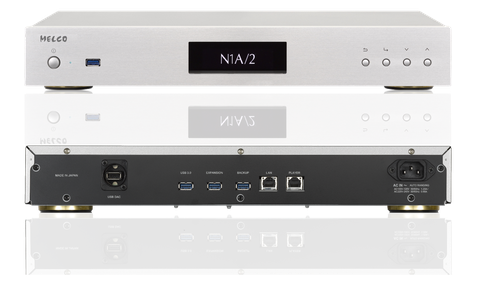 – Single press power button – same as Hi-Fi components and unlike
any IT device
– Comfortable front panel buttons with positive click for easy
operation
– Front USB 3.0 port
– OLED display to reduce internal noise
– Rear USB3.0 ports – BACKUP, EXPANSION USB-DAC or Easy
Import from Flash drive, CD drive or HDD
– 3 pole IEC mains inlet with true electrical ground to define source
component as ground point, and internal power-line noise filter
Full details and tech specs on the Melco website.
Reviews (0)
Only logged in customers who have purchased this product may leave a review.
Ask a Question
Ask a question about this product
We'll get back to you as soon as possible.