MELCO N100 MUSIC LIBRARY
£1,799.00
Description
Description
N100 is the half-sized model of the MELCO music library which has 2TB hard disc drive and 3 x USB2.0 port. The full functioned model in the same size and design as MELCO CD drive "D100"
Fine design both for rack-style and desktop use (215 mm)
Aluminum front and top panel with hairline finish
2 mm steel sheet chassis for anti-vibration
HDD is designed with anti-vibration system "HS-S²"(Highly Stable Storage System) under same concept as N1ZS/2A.
LAN port for direct connection with player (no LED for status indication)
USB2.0  x3 are compatible with USB-DAC, USB CD drive and USB storage such as USB HDD or USB flash memory. When the drive is connected, user can choose the purpose of the drive on the front display. (Import, expansion, backup, restore etc)
Low C/N clock of NDK
Power management system by FPGA for improved system stability.
Fan-less design
2.0TB2.5"SFF HDD x 1
Gigabit Dual Ethernet LAN port
PC file sharing function
DLNA/UPnP media server function with Twonky Server 8.5
USB-DAC connection for USB playback – supports Gapless and DSD with DoP and Melco Markerless DSD.
Automatic download of music files from Hires Audio.com, and other vendors to be announced, with file integrity check.
CD import to local HDD using Gracenote Database.
Backup and Restore of internal HDD – compatible with Melco N1 series.
215 x 61 x 269mm
Net weight Appx.3kg

Small and Smart
N100 creates a convenient and compact Hi-Fi system when used with a USB-DAC Headphone amplifier or USB connected Active Loudspeakers.
Sound Quality of N100 is true to the Melco tradition and will not be outclassed in a high-end system.
Store and Management
N100 has an internal HDD capacity of 2TB – equivalent to approx. 4000 CDs..*
The music files once saved to N100 can be played through LAN and USB.
CD import using any USB connected optical disc drive with metadata and album art added from Gracenote database. Compatible with MELCO D100 high performance CD loader.
CD can be played directly without importing into connected USB-DAC in the manner of a high-end CD player.
Convenient downloading of Hires music directly into Melco N100 without need for a network computer from HiResAudio.com and other vendors.
*Some parts of the HDD is used for system running, so not all capacity is used for music files.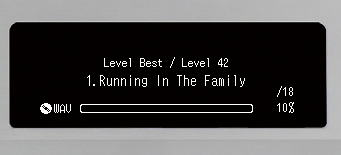 Showing process of CD import
N100 will collate and arrange the complete music library and offers browse by Album, Artist, Data format, Date of recording, Composer etc.
Browse and play is possible from the N100 front panel or App on smartphone or tablet.
N100 supports all high res music formats up to 32bit 384kHz and Octo DSD.
N100 is ready to use once language and time zone has been selected.
Additional advanced features, all accessible from the simple front panel interface, allow for customization.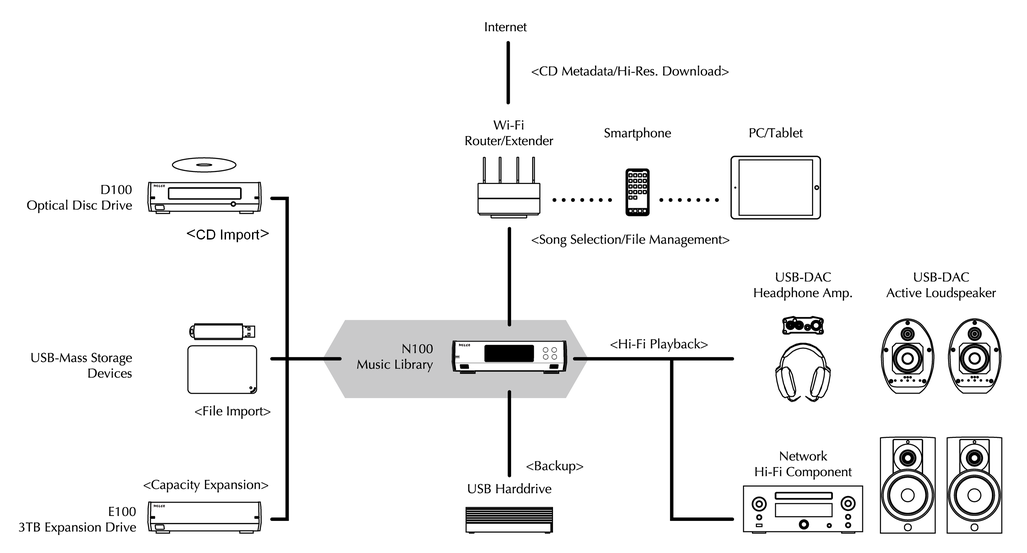 Model
N100-H20
EAN
4589636030361
Color
Silver
Capacity
HDD 2TB x 1
Size
215x61x269 mm
Weight
Appx 3kg
Terminals
USB2.0 type A Front x 1 Rear x 2

Gigabit Ethernet port x 2

Power supply
DC 12V (48W AC adapter)
Support file (Server)
DSF, DFF, FLAC, WAV, ALAC, AIFF, AAC, MP3, WMA, OGG, LPCM
Support file (Player)
DSF, DFF, FLAC, WAV, ALAC, AIFF, AAC
Sampling rate (Server)
44.1K, 48K, 88.2K, 96K, 176K, 192K, 384K, 2.8M, 5.6M, 11.3M
Sampling rate (Player)
44.1K, 48K, 88.2K, 96K, 176K, 192K, 384K, 2.8M, 5.6M, 11.3M
Bit rate
16-32bit (PCM), 1bit (DSD)
Accessories
Quick Start Guide, USB2.0 cable, Category 6 Ethernet cable, AC adapter
Reviews (0)
Only logged in customers who have purchased this product may leave a review.
Ask a Question
Ask a question about this product
We'll get back to you as soon as possible.