melco d100 audiophile cd loader
£950.00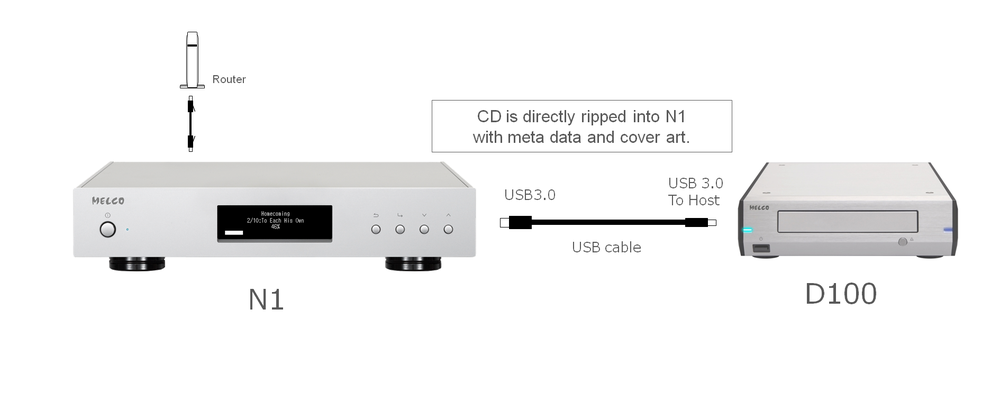 Description
Description
Melco N1 series supports CD import from USB CD drive. Rather than use inferior drives designed for IT applications, MELCO has introduced a specialised optical disc drive optimised for high quality audio play and data transfer rather than high speed burst data for IT applications. This will give convenient bit-perfect CD import.
Additionally if the N1 is used with a USB DAC the D100 provides a superb real time CD Player into the DAC. Designed primarily for use with MELCO, the D100 is also suitable as a high quality CD loader for PC or mac based computer audio systems.
FEATURES:-
Audio specific high quality CD loader.
• Massive mechanical construction eliminates intrusive vibrations
• Convenient drawer loading mechanism for optimum disc handling and no risk of CD damage.
• USB3.0 connection to N1 USB3.0 port.
• Rear panel USB3.0 port to allow for Easy Music Import or Play from USB devices.
• Separate power supply with internal power supply management for optimum sound quality No setup required – just plug into USB3.0 port.
• Default import format uncompressed flac.
• Wav selectable.
Optical Drive:
Drawer loading UV reading CD loader specific for audio use only.
Connectivity: USB 3.0 x 2 –
Type A (Connect to USB drives for Easy Music Import, USB update, or USB DAC)
Type B (to connect to Melco N1 USB 3.0 rear port)
Power supply: DC 12V. (100-250V AC mains adapter supplied)
Dimensions: 215mm(w) x 269mm(d) x 61mm(h)
Weight: 3.5kg
Reviews (0)
Only logged in customers who have purchased this product may leave a review.
Ask a Question
Ask a question about this product
We'll get back to you as soon as possible.